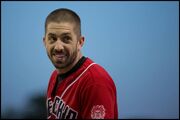 Zach A. Parrish is a supervising animator for Walt Disney Animation Studios.
Zach grew up in Fort Wayne, Indiana. It's a pretty small city, but is the second largest in Indiana. He went to Queen of Angels from k-8 and then Bishop Dwenger High School. After graduation, He moved to Savannah, GA where he attended the Savannah College of Art and Design and got his BFA in Animation. During his last semester at SCAD, he enrolled in Animation Mentor. He continued Animation Mentor after leaving SCAD, while he was working at Rhythm & Hues.
Zach was fortunate to be hired as an Apprentice Animator at Rhythm & Hues in 2007 directly out of school. R&H was getting such a high volume of reels from SCAD that they sent a recruiting team and he got to meet with Amanda Dague. With one class of Animation Mentor in my back pocket, I explained to Amanda just WHY my reel was as terrible as it was. Apparently, he did a good enough job. He worked for a month as an Apprentice before being hired as a Junior Animator on Alvin and the Chipmunks (the OG). After Alvin, he stayed at R&H for a year and worked on 4 other films before moving to Sony Imageworks to work on Cloudy with a Chance of Meatballs (one of the many kids books that inspired me as a child and continues to be one of my favorites of all time). He stayed at Sony through Alice in Wonderland, and then heard that Glen Keane was attached to a CG fairy tale musical at Disney. His life was complete. He had to apply.
Community content is available under
CC-BY-SA
unless otherwise noted.