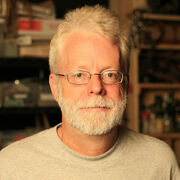 Foley artist John Roesch received a Career Achievement Award at the Motion Picture Sound Editors' 60th Golden Reel Awards. As the first Foley artist to receive this award, Roesch has contributed to more than 400 films in a career spanning more than three decades. He has produced Foley sound effects for 16 Academy-Award winning films for best sound and best sound editing.
His credits include this past summer's blockbuster The Dark Knight Rises as well as its predecessor The Dark Knight, The Girl With The Dragon Tattoo, all three films in the Matrix trilogy and Inception. Roesch previously received two Golden Reel Awards for The Dark Knight and The Matrix, alongside more than a dozen nominations.
He studied filmmaking at New York University and was a Directing Fellow at the American Film Institute. He is a member of Local 700, Motion Picture Sound Editors, and the Academy of Motion Picture Arts and Sciences.