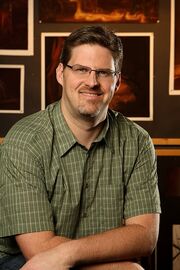 Dean Wellins is a artist, animator, character designer, animation consultant, director, screenwriter and actor.
Early Life
Edit
Dean was born March 24th, 1971 to Stan and Ellen Wellins at a US Air Force Base near Zaragosa, Spain. At about the age of three, his father (a Dentist/Oral Surgeon in the Air Force) was re-stationed and Dean along with his brothers William and Mike and his sister Patti, moved back to the US. First to Wyoming them finally to Merced, California. A few years later, his parents divorced and Dean spent the rest of his childhood with his mother and siblings in Merced until she remarried and moved them to Dos Palos, California where he went to Junior High and High School. After graduating he attended the University of California at Davis, where he studied art and design and was later accepted into the Character Animation Program at CalArts in Valencia, California.
Personal Life
Edit
After 17 years in the animation industry doing commercials and feature films, he still lives near CalArts in Newhall, California with his wife Teresa and his three sons Ethan, Owen and Aiden.
Brother of Mike Wellins the Director and William Munroe
Was nominated three times for the same award (An Annie) in two years: 1999 and 2001.
Worked on the film 'The Iron Giant' with Brad Bird
His other roles include being a composer and music performer
Has worked on other films such as 'Osmosis Jones', 'Free Birds' and 'The Pagemaster'.
Has also worked on a few Shorts