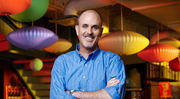 Daniel Gerson (August 1, 1966 – February 6, 2016) was an American screenwriter best known for his work with Pixar and Walt Disney Animation Studios. He co-wrote the screenplays of Monsters, Inc., Monsters University and Big Hero 6, which was reported to be his last film as screenwriter.
Gerson was also a member of the Pixar and Disney writing teams and contributed material to Chicken Little, Curious George, Cars, Meet the Robinsons, Up, Inside Out and Zootopia, as well as television shows including Misguided Angeles, Big Wolf on Campus and Something So Right. Of all the films he wrote, Big Hero 6 won the Academy Award for best animated film, for which Monsters, Inc. was also nominated. Big Hero 6 was also the highest-grossing animated film of 2014. He also won a BAFTA award.
Gerson died in Los Angeles at the age of 49 on February 6, 2016, due to brain cancer. He was survived by his wife of 20 years, Beau Stacom; his children Claire and Asher; his parents Mary-Joan and Charles; and his sister Jessica and her children Daisy and Henry.