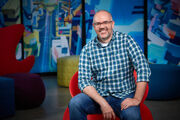 Cory Loftis brings his expertise in video game designing, digital painting skills and lifelong love of art and animation to his current assignment. For his feature film debut, Loftis helped to visualize a wide variety of environments, characters and props that help to take moviegoers on a wild ride through the gaming universe.
Born in Corsicana, Texas (famous as the home of most popular holiday fruitcakes), Loftis demonstrated skills in art and math at an early age. After choosing an education in naval architecture and marine engineering, Loftis soon realized that ship design wasn't his passion. He moved to California in 2002 to pursue a career in traditional hand-drawn animation. The following year, he took a job as an in-house illustrator with a small company in Orange County.
In 2005, Loftis accepted an invitation from a friend at Carbine Studios, a start-up video game company formed by veterans from Blizzard Entertainment. There, he became a concept artist for cutting-edge video games and mastered the craft of digital painting. Over the next six years, he worked as lead artist on Carbine's debut title, Wildstar.
Postings of his personal art on his blog Tabletmonkey Presents came to the attention of the filmmakers at Walt Disney Animation Studios and Loftis was hired in 2011 to join the "Wreck-It Ralph" visual development team. He has contributed design elements to all of the various gaming worlds featured in the film, including the arcade itself (for which he helped to create some of the human characters). His work on the film also includes the security guards in Sugar Rush and the tower, armor and space soldiers in Hero's Duty.