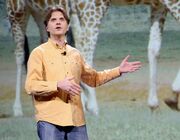 Byron P. Howard (born 1968) is a Disney famous supervising animator and film director. Howard grew up in Issaquah, Washington, attending Issaquah High School (graduating in 1986) and attending The Evergreen State College in Olympia, WA. Howard's career in animation began 15+ years ago when he followed his childhood dream to work for Walt Disney Animation Studios by writing for advice from one of Disney's Nine Old Men animators, Frank Thomas. Using Mr. Thomas's helpful letter, he structured his entire curriculum. Before the ink was dry on his diploma, he relocated to Orlando, Florida, where he worked as a tour guide for Disney's animation tour at Disney MGM Studios. After 4 portfolio submissions, he began the Disney animation internship, and was hired in 1994. He went from inbetweener to animator to supervising animator in just 5 years. Since relocating to the California studios in 2004, he has worked as story artist, character designer on Cobra Bubbles for Lilo & Stitch and Kenai for Brother Bear and director on Disney's 48th animated feature film Bolt.
He started his career in 2008 with the film called, Bolt, as a director, other director of this film is Chris Williams and writers of the film are Chris Sanders and Dan Fogelman, released on November 21, 2008 and the cast of the film includes: John Travolta, Miley Cyrus, Susie Essman, Mark Walton, Malcolm McDowell, James Lipton, etc. He also directed other film called, Let It Begin. He also directed Tangled with Nathan Greno.
In May 2013, it was reported that Howard is directing an animated animal comedy film for Walt Disney Animation Studios. A few months later, it was revealed that the film would be titled Zootopia and is scheduled for 2016.
Animation credits
Edit