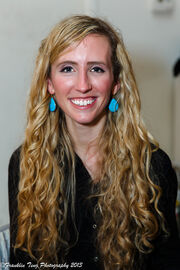 Brittney Lee is a visual development artist at Walt Disney Animation Studios.
Brittney is married to David J. Suroviec, a character technical director at Walt Disney Animation Studios.
During the production of Wreck-It Ralph, Brittney constructed an elaborate model of Sugar Rush made of real candy.
For the production of Frozen, Brittney designed all of Anna's dresses and hairstyles. She did background Rosemaling, and she designed Elsa's braid, shoes, and helped with the design for Elsa's dress.
Brittney is well known for her dimensional paper sculpture illustrations.
Disney Filmography
Edit
| Year | Film | Position |
| --- | --- | --- |
| 2012 | Paperman (Walt Disney Animation Studios) | Art Department |
| 2012 | Wreck-It Ralph (Walt Disney Animation Studios) | Visual Development Artist |
| 2013 | Frozen (Walt Disney Animation Studios) | Visual Development Artist |
| 2016 | Zootopia (Walt Disney Animation Studios) | Additional Visual Development Artist |
| 2016 | Moana (Walt Disney Animation Studios) | Visual Development Artist |