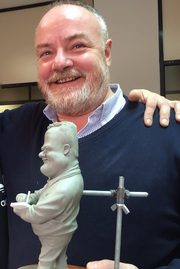 Borja Montoro Cavero was born in Madrid in 1966.
He graduated in law and artist by profession. After twenty years working as an animator in different places and productions, including Disney in Los Angeles and Paris, he began in 2006 to make cartoons of opinion for the newspaper La Razón.
On January 7, 2014 was dismissed from the newspaper owned by Lara and directed by Marhuenda, according to him for political reasons and according to the director for economic reasons. Since then, he published in Digital Freedom.