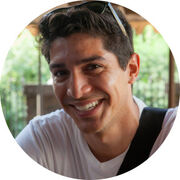 Alberto Abril is an animator for Walt Disney Animation Studios.
Alberto was born in Ecuador and raised in NY and NJ. He had a love of animation from an early age and pursued a dream of becoming an animator by going to Syracuse University for a well rounded art education. He received his BFA and promptly moved to LA in the hopes of landing a job. He worked at a small commercial shop in Hollywood for about a year at which point he realized he still had a lot to learn about animation and decided to further his education. He enrolled at Gnomon School of Visual Effects, and did an intense year and a half program designed to teach you everything about the VFX industry. He took every animation class he could, and in his final semester he landed a spot in the Rhythm & Hues apprentice program which led to a full time position as an animator on the movie Alvin & The Chipmunks. He worked there for about three and a half years, and then took a job at WETA Digital in New Zealand. He worked on two films and then returned to LA to take on his first animated feature Wreck-It Ralph, and I've been at Disney ever since.
Nathan's first job in the industry was as an unpaid intern at Super78. They were a small vfx company, and although he didn't actually animate there he learned a lot about the industry that helped me later on. He got that job off a visual effects job post website. His first actual animating gig was through the Rhythm and Hues apprentice program, and he learned about through his school. I've worked at WETA Digital, and Walt Disney Animation after that.
Community content is available under
CC-BY-SA
unless otherwise noted.